AWE-some … foster care firsts…
March 6, 2012 at 12:06 am 31 comments
Today i opened my refrigerator and looked inside and it was empty…. not even a beer.  Completely empty.  I closed it, counted to 5 and opened it.  Guess what?  Still empty.  Staring at my empty refrigerator bought back memories of AWE-some foster care firsts…
Let me share..
1.  Food in the fridge.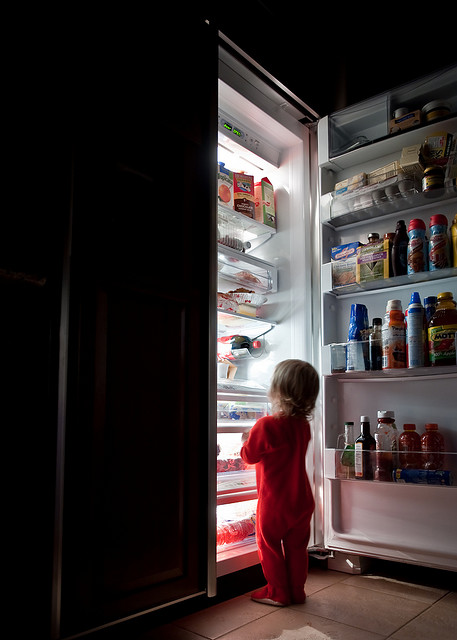 When I went to a foster home that had food in the refrigerator, it was AWESOME.  I don't mean just an apple or a container of milk, I mean a whole bunch of food in the fridge.  It wasn't like that before in my life.  Most of the time, when i was living with my bio-parents, the fridge was empty; sometimes broken.  At my foster home, I remember opening and closing the fridge to make sure the food was *REALLY* there.  It was.  Ironically, my little self also noticed the light was ON in the refrigerator with food.  In my bio-home, there was no light in the refrigerator and no food.  So for the longest time, I thought that the light was only on when there was food.  I would check it at night too… and yep, the light was on when food was in there.  It took a couple more homes before I realized that the light and food were not related.
.
2.  Bicycle with training wheels.
If you read my blog regularly, you know I really like to ride my bike… well, at least I did before I got hit by the car.  Anyway, I never had a bike living with my bio-parents.  In honesty, I never really had my *own* bike anytime growing up… it's not like you can take a bike when you are being dumped by a family and moving again.  That being said, I did learn to
ride a bike in foster care.  Sara and Bill taught me to ride a bike.  At 8 I was small and started just like every other kid… with training wheels.  It wasnt until I saw a neighbor kid with no training wheels did I realize those "things" werent supposed to be there.   So uncool when you are a "tough" 8-year old from the hood…
.
3.  Talking…and listening… blah, blah, blah…
I don't ever remember my bio-parents just talking to me.  They were usually yelling, screaming, or directing me to do something.  Never asked "how are you today," "what is your favorite color," etc.  When I went to foster care I remember sitting at the kitchen table with Ms. Liz and her just talking to me.  I was busy stuffing my mouth and pockets with food, but she talked… not yelled, not screamed, not "LT, get my dam beer"… just talked.  Eventually at some other tables in other homes, I talked too… in between stuffing my mouth…. and the foster parents listened.  Amazingly some of them even listened to me cursing them out, telling them "to eat shit and die" or "fuck off," or simply "goto hell."  And some didnt yell back or punish me for what I said.  Perhaps those moments of them listening were very beneficial because I learned that I could express myself and not get hurt.  Eventually those foster parents put "boundaries" that I was supposed to respect.  For example, once a foster family said I could express myself without using swear words and they would listen, but if I used a swear, I had to do some chore.  My smart-ass response:  "Go to HECK."
.
4. Positive bathing…with song.
When I came into foster care, I was hurt.   The reality when I got to foster care… was that I was not taking my clothes off for anyone at anytime, especially with a "male" there.  In my bio-home, cleaniness didnt matter; alot of tim
es I wore dirty clothes, there was no soap or shampoo to bathe with, etc.  It was not something I "learned" living with my bio-parents.  For me, I bathed to get "it" off me and "it" out of me… the sometimes perceived "disgusting, slimy" feeling and the sometimes real "slimy substance" that came from being used as someone's fucktoy…Sometimes I would fall asleep in the dirty, old bathtub, hoping to get it "off" me and "out" of me.
Bathing was not something that was positive … it was all negative. 
While living with Ms Liz and Sara and Bill, bathing was reframed from negative to positive… by SLOW steps where I was "in control" (or thought I was).  Initially Ms Liz had to give me sponge-baths because of the injuries, but believe it or not, she did it when I was dressed, by rolling up the areas of clothes.  It took along time, but I was not ever feeling "exposed."  Eventually I graduated to baths in the tub in clothes …. losing items over time or wearing different items, like shorts and a tee-shirt instead of a sweatshirt, etc.
The use of soap and shampoo had to be "taught" to me.  I never had it consistently when I was living with my bio-parents, no-one cared.  My foster parents tried soaps of different colors, soaps of different smells, soaps of different size…but perhaps the best tool to get me to remember to use soap …..
"I wish I was a little bar of soap,"
"I wish I was a little bar of soap,"
"I'd go slippy slippy slidy, over every little hiney,"
"Oh, I wish I was a little bar of soap."
To a little kid, this little jingle is hysterical…
…especially when screaming it at the top of your lungs!
Entry filed under: Uncategorized. Tags: aged-out foster kids, child abuse, Foster Care, foster care tips, foster child, foster home, foster kid, foster parents, rape, social workers.
**What I would say to all my ex-foster parents… are foster/adoptive kids loved differently than biokids